COVID-19 (SARS-CoV-2) Pseudovirus | 新冠假病毒
The SARS-CoV-2 (2019-nCoV, COVID-19 virus) belongs to the Coronaviridae family. It is about 80-120 nanometers in diameter and is an RNA virus. Coronaviruses are divided into four genera: α, β, γ, and δ. Among them, SARS and MERS coronaviruses, which cause severe illness and can spread widely and cause epidemics, belong to the β-coronavirus. This SARS-CoV-2 is also the β- coronavirus.
SARS-CoV-2 binds to the host cell receptor angiotensin-converting enzyme II (ACE-2) through its spike glycoprotein and infects human respiratory epithelial cells with long sleeves. ACE-2 was infected by this new coronavirus In this way, interrupting the combination of virus and ACE-2 and disrupting the process of virus-infected cells must be an important direction for drug development.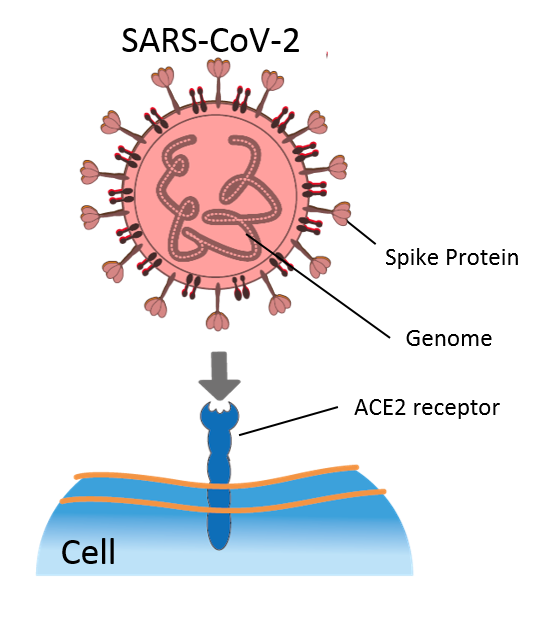 With ACE Biolabs' technological advantages, we developed pseudoviruses that can be used for nucleic acid diagnosis, antibody and vaccine research. Under the premise of ensuring the safety of the experiment, it can simulate the biological characteristics of the virus to the greatest extent and help the global anti-epidemic.
COVID-19 (SARS-CoV-2) Pseudovirus
ACE Biolabs used the lentiviral packaging system to package the SARS-CoV-2 (2019-nCoV, COVID-19 virus) S protein as a surface capsid glycoprotein and containing GFP and Luciferase dual reporter genes as a pseudovirus model. The virus can infect cell lines overexpressing the ACE2 gene. Researchers can determine the infection efficiency by observing GFP through a microscope and detecting the value of Luciferase.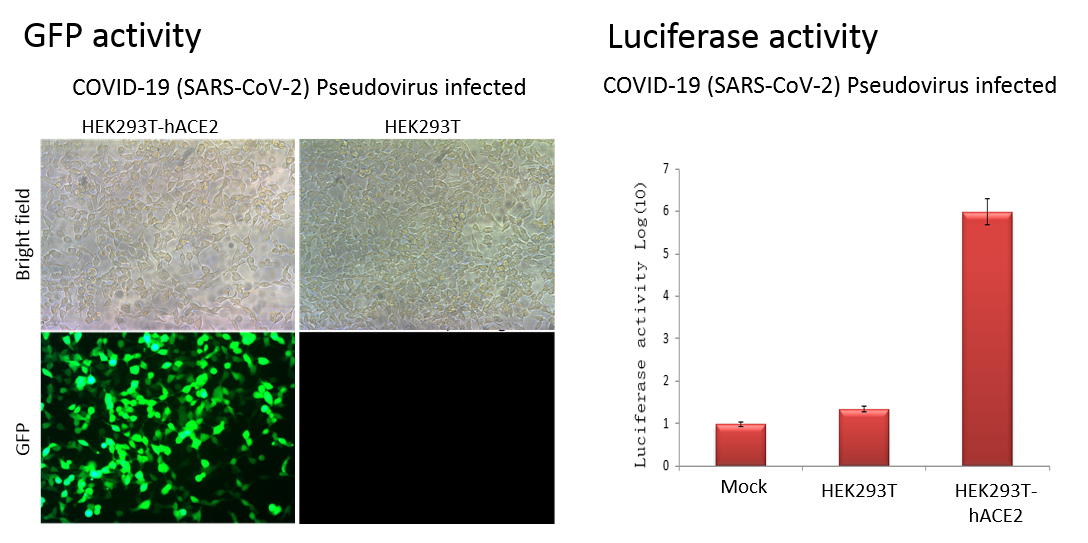 Application of COVID-19 (SARS-CoV-2) Pseudovirus
- Neutralization Assay
In the pseudovirus luciferase assay (PVLA), the inhibition of viral entry into cells by Neutralize Antibody is correlated to the decreased levels of luciferase signals in the cells. This method is superior to the conventional assay because of its simplicity, higher sensitivity and accuracy, suitability for high-throughput experiments. In addition, no live virus is used during the test. Therefore, this method could be used as an alternative for safely conducting serologic studies in a rapid response in assessing the threat posed by SARS-CoV-2.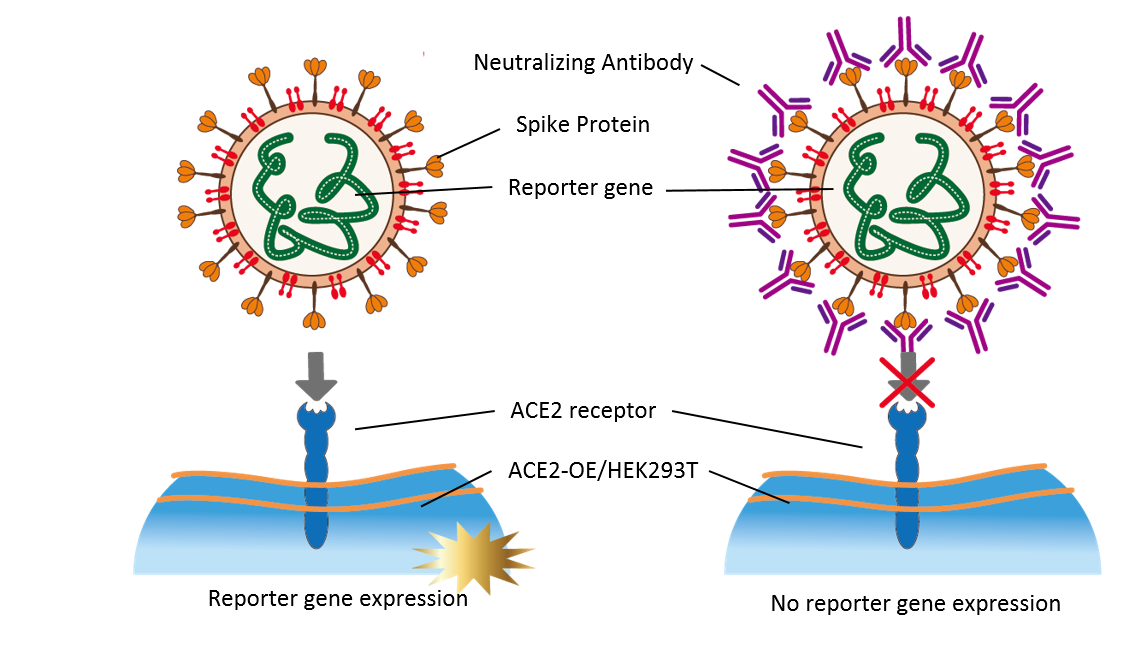 - Quality control for RNA extraction and virus detection using qPCR
The SARS-CoV-2 (2019-nCoV, COVID-19 virus) nucleic acid detection experiment mainly includes: virus sample acquisition, viral nucleic acid extraction, RNA reverse cDNA, QPCR system preparation and on-board detection and other links. A problem in any of these links will cause the test to fail and the diagnosis cannot be confirmed.
In between, ACE Biolabs has developed a set of pseudoviral vectors for nucleic acid detection based on the retrovirus/lentivirus system based on its own technical advantages, which can simulate RNA viruses to the greatest extent and has high biosecurity and stability, it can be used in the whole process of nucleic acid detection quality control and the simulation test of the kit development stage.

Pseudovirus for mechanism research

Cat. No.

Product Name

Description

Size

PV031

Pseudovirus contains SARS-CoV-2 S protein as a surface capsid glycoprotein and GFP and Luciferase dual reporter

1ml

CL0021

HEK293 cells over-expressing ACE2

1mL

CM1001

Detection of mycoplasma contamination within 1 hr

1mL

CM1003

Removing mycoplasma contamination in cell culture

1mL

LPV-1ml

Titier: 106-107/ml

1mL

ACE002

FBS replacement

1mL
Pseudovirus as a quality control for RNA extraction and virus detection using qPCR

Cat. No.

Product Name

Sequence

Size

PV004

ORF1a/b 500 bp, E and N gene

1ml

PV019

ORF1a/b 500 bp, E, M and N gene

1mL

PV020

ORF1a/b 500 bp, S 1.3 kb, E, M and N gene

1mL

PV021

MERS-ORF1a/b partial, E and N gene

1mL

PV026

FNV-SARS-ORF1a-N

SARS-ORF1a/b partial, N gene

1mL

PV027

FNV-SARS-CoV-2-abII MEN

CDC and WHO- ORF1a/b, E, M and N gene

1mL

PV028

FNV-GAPDH

GAPDH

1mL

PV029

FNV-RNaseP

RNaseP

1mL
With the now global outbreak of COVID-19, SARS-CoV-2 early diagnostics and infection prevention and control has become critical. ACE Biolabs can provide the following products lines for SARS-CoV-2 (2019-nCoV, COVID-19 virus) research: